The current section allows to pay for your orders at Doba.

General Settings:


Select field containing Doba orders ID
Select order status to process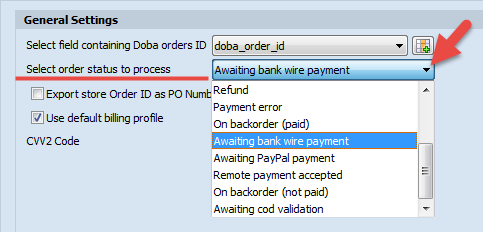 Export store Order ID as PO Number
(PO number  is the unique identifier, which generated by the customer during purchasing to authorize an order transaction)
Use default billing profile
    

    

 

CVV2 Code
(
"Card Verification Value"
)  .

Also you can Select Configuration that was saved earlier or save current configuration and Add Task to Scheduler in order to make payments automatically, on the regular basis.

Please click on Submit payments button in order to proceed.